Desserts
Harlan Kilstein's Strawberry Coconut Cheesecake (Non-Dairy)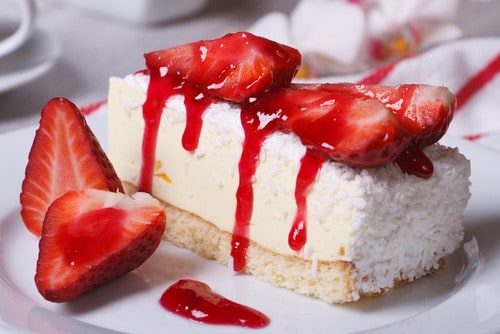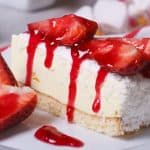 Harlan Kilstein's Strawberry Coconut Cheesecake (Non-Dairy)
Print
Instructions
Crust:
Coat the 9 inch Springform Pan with coconut oil

Line the bottom of the pan with parchment paper

In a food processor, pulse the coconut, pecans, and coconut oil. You want a paste like consistency.

Spread the crust in the pan. Press into shape. Now place it in the freezer to set.
Filling:
Soak the macadamias for 6-12 hours.

Combine the macadamias, fresh sliced strawberries, coconut milk, xylitol, vanilla extract, lemon juice, and a salt in a Vitamix or high powered blender.

Add the melted coconut oil and blend well.

Stir in the shredded coconut.

Pour into the crust.

Freeze a minimum of 2 hours or until very firm.
Topping:
Using a hand mixer or immersion blender mix the cold coconut cream. Add the Xylitol and shredded coconut.

You want this whipped up to look like whipped cream. If it's too lose freeze it for 15 minutes and try again. If it's too stiff, add a few tablespoons of the leftover coconut milk.

Garnish with strawberries and shredded coconut.