Harlan Kilstein's Keto Stuffed Cabbage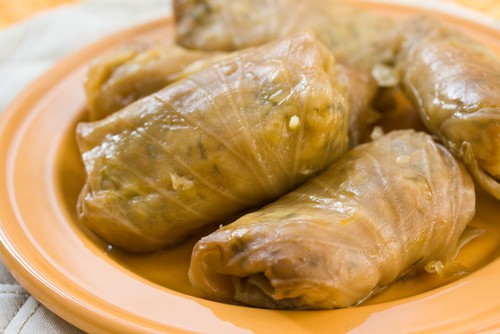 Harlan Kilstein's Keto Stuffed Cabbage
STEP ONE
One cabbage – remove and save the core.
Steam the cabbage until it softens.
Cool.
Peel off the leaves.  Save any broken leaves.
STEP TWO
Combine the following:
4 lbs of chopped meat
3 whole eggs
1 pound package of cauliflower rice
1/4 cup almond flour
1 tsp Himalayan salt
STEP THREE
In the bottom of a large pot brown a large onion in coconut oil
add 4 fresh tomatoes or 1 can of tomatoes
put in all the pieces of cabbage that didn't make the grade (the broken pieces)
add 1/4 cup lemon juice
1/2 cup of liquid lakanto sweetener
(note you'll probably want to double/triple the amounts of lemon juice and sweetener based on the quantity of meat you make).
STEP FOUR
Using whole leaves of cabbage add some of the meat mixture and make rolls.
Gently add the stuffed cabbage rolls to the pot.
Cook on a low flame for 2 hours.
STEP FIVE (Optional but my mother will yell at you if you don't)
In a flat pan, arrange the cabbage.
Pour in the juice.
Sprinkle the top with lakanto golden sweetener
Bake at 325 for one hour.
Freezes wells.
Improves with age. (Like my mom!)