Harlan Kilstein's Vegan Keto Lasagna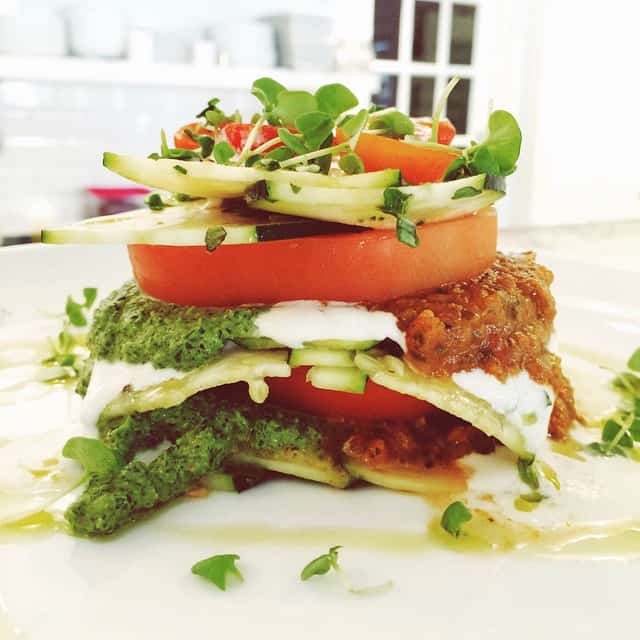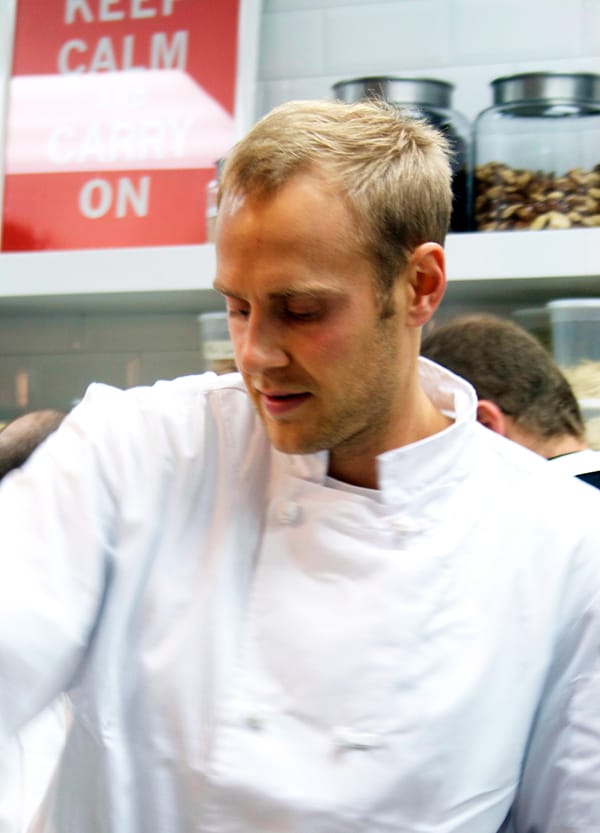 This is Chef Christopher Slawson. He owns and operates the finest vegan restaurant in the world – Christopher's Kitchen.
Christopher's Kitchen is made with the freshest vegetables and spices. While not all of the foods are Keto approved, there are plenty of selections on the menu.
He has a wonderful caring staff that will take care of your any need.
Want that mango taken out of your salad, not a problem. Want olive oil and lemon instead of a dressing, they make it happen.
They will honor any request. Don't miss the raw zucchini lasagna. It's perfection.
This recipe is in salute to Chef Christopher and his amazing lasagna.
This is the perfect keto recipe. The macadamia provide high fat but are low in carbs. The pili nuts are super high in fat and so high in fiber that they are zero net carbs.
You have fats in all the oils used.
Finally you top each portion with brain octane oil to build ketones!
What could be better?
The fact that it's delicious makes it even better.
Harlan Kilstein's Keto Lasagna
This recipe is divided into two parts. Prep and assembly.
This is served raw. It is very filling (and delicious).
Macadamia Cheese
2 cups raw macadamia nuts
3-4 tablespoons of lemon juice
1 teaspoon of Himalayan salt
pinch of garlic powder
pinch of white pepper
(optional) 1/2-1 teaspoon of stevia.
Soak the raw macadamia nuts in 4 cups of water for at least 7 hours. You can let them soak overnight.
Drain the nuts and rinse them off with warm water.
Put all ingredients in blender or food processor.
Add 1 cup of water and pulse on and off.
You want it to have the consistency of cream cheese.
Add a bit more water / lemon juice as needed.
Store in refrigerator.
Pili Nut Pesto
2 cups of fresh basil leaves
2 whole garlic cloves
3/4 cup pili nuts
1/2 cup of extra virgin olive oil
1 teaspoon of lemon juice
1/4 teaspoon of Himalayan salt
pinch of black pepper
Tomato Oregano Sauce
4 large raw tomatoes (crush in food processor but do not liquify)
1 tablespoon of oregano (fresh if you can get it)
1 tablespoon of apple cider vinegar
1 teaspoon of Himalayan salt
1 teaspoon black pepper
Zucchini Noodles
Using your mandolin cut thin even strips of zucchini
Remember this is about the presentation as well.
No don't cook them and kill all the enzymes.
Sliced Homegrown Tomatoes
This will make at least 12 servings.
Step Two: Assembly
These are assembled for individual layers not in a pan.
Take 1 or 2 strips of zucchini
Top with some macadamia cheese
Add some pili pesto
Add some tomato sauce
Add a whole slice of homegrown tomatoes
Repeat for 2 more layers
Top with brain octane oil
Take a photo and post it in our Facebook group
Acknowledge round of applause when you serve it.