Harlan Kilstein's Keto Jamaican Jerk Chicken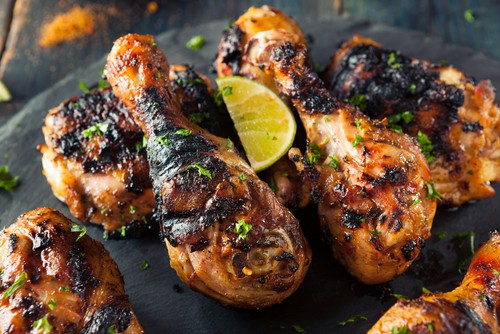 Harlan Kilstein's Keto Jamaican Jerk Chicken
1 medium/large onion chopped
3 scallions chopped (extra fresh)
2 chili peppers chopped (WARNING – Do not touch your face or eyes without seriously washing your hands)
3 garlic cloves minced
1 tablespoon ground allspice
1 tablespoon black pepper
1 teaspoon of ground thyme
1 teaspoon Himalayan salt
1 teaspoon ground nutmeg
1/2 cup wheat free Tamari sauce
1 tablespoon Jamaican Jerky spice ground
1 tablespoon coconut oil
2 whole chickens cut up in 1/8's
Combine the onion, scallions, chili peppers, garlic, Jerk Spice, all spice, black pepper, nutmeg, thyme, and salt in your food processor.
Keep processing until in turns into a semi-thick paste.
While the machine is on, add the Tamari sauce and coconut oil.
Pour the mixture into a large pyrex pan.
Put the chicken in the pan and mix it up.
Coat the chicken with the sauce.
Cover and refrigerate overnight.
Fire up your grill.
With the grill set on high, score the meat on the grill until those gorgeous lines appear.
Immediately lower the grill to medium.
Cook with the grill closed to keep the spice mixture sharp.
Use your thermometer to make sure the chicken is done.
Garnish with slices lemon or lime
Serves 8-10