Sauces & Rubs
Harlan Kilstein's Completely Keto Veggie Roasted Salsa (SK)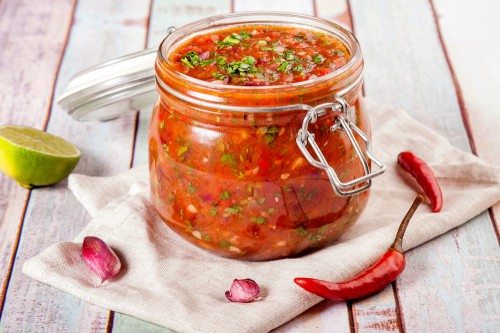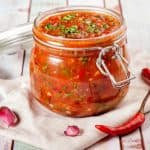 Harlan Kilstein's Completely Keto Veggie Roasted Salsa (SK)
Print
Ingredients
2

lime

halved

1

tsp

black pepper

1

red onion

1/2

cup

cilantro

3

large tomatoes

2

jalapeno pepper

3

tsp

Pink Himalayan Salt
Instructions
Roast each veggie over an open flame whole, except for lime which is roasted on the open face, until it chars. Do not put directly in the flame but rather close to it. If you have an electric stove put tin foil and roast it over the foil.

Once each veggie is charred, prep each one by destemming and quartering the tomatoes, cut off the stem of the pepper and cut in half with removing all the insides. Cut onion into quarters.

Put all the veggies into a food processor and squeeze the lime over and add in cilantro, salt and pepper.

Cover the food processor and grind gently.

Refridgerate until serving.