Mains
Harlan Kilstein's Completely Keto Vegetable and Chicken Kebab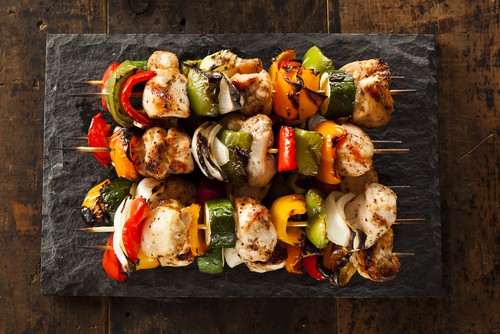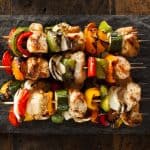 Harlan Kilstein's Completely Keto Vegetable and Chicken Kebab
Print
Ingredients
2

lb

chicken breast

cubed

1/3

cup

fresh lemon juice

6

Tbsp

olive oil

3

large garlic cloves

crushed

2

lemons zest

2

large onions

2

large bell peppers
Instructions
Cut the onions, peppers, and chicken into cubes and place in three seperate bowls or containers. 

Mix all the other ingredients in a blender or food processor. Pour over the chicken bowl. Mix the marinade well with the chicken cubes so it's totally enveloped in marinade.

Let marinate for at least 3 hours.

Pierce the chicken, onion and pepper cubes intermittently as you see fit on to wooden sticks.

Grill all the skewers until the chicken is as well cooked as you wish, as long as it isn't raw on the inside. Longer gives more of that wonderful smoky grill flavor.

For the indoor option: pre-heat the oven to 500°F. Heat a grill pan over high heat for 4-5 minutes. Place the chicken skewers on the pan and grill for 2-3 minutes, then flip and grill for another 2 minutes. Transfer pan to the oven and cook for another 5 minutes.

For the baking option without a grill pan: Put the kebabs on a baking sheet and bake at 500°F for 10-12 minutes.