Harlan Kilstein's Completely Keto Tomato Pesto Pie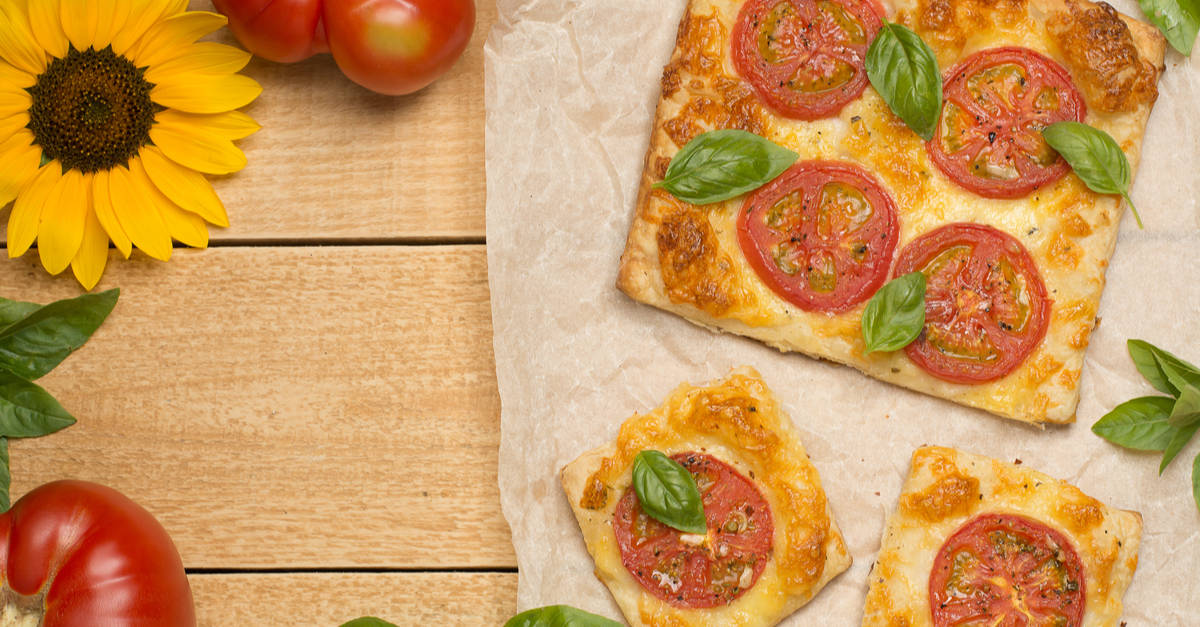 Harlan Kilstein's Completely Keto Tomato Pesto Pie
Ingredients for pie crust:
Serves 12 Servings
1  3/4 cups pre shredded/grated cheese mozzarella is the best or Edam/mild cheese
3/4 cup almond meal/flour
2 tbsp cream cheese
1 egg
pinch Himalayan salt to taste
½ tsp of dried basil and garlic powder 
Pesto sauce:
1 Cup fresh basil leaves
1/4 Cup Pili nuts 
1/3 Cup olive oil
2 Tbs Primal Kitchen Mayo
3 Cloves fresh garlic
Blend ingredients in blender and set aside
4-6 Tomatoes depending on size sliced thin
Fresh ground pepper
Salt
Use a  rectangular pie tray at least 12 x 15 or larger
Mix the shredded/grated cheese and almond flour/meal in a microwaveable bowl. Add the cream cheese and stir.
Microwave on HIGH for 1 minute. Stir again.  Then microwave on HIGH for another 30 seconds.
Add the egg, salt, basil , garlic, pepper and any other flavorings you choose and  mix gently
Place pie crust in between 2  (butter/oil)  greased pieces of baking parchment/paper and place onto a rectangular shape large pie tray
Remove only top parchment paper after dough is in baking pan reaching all corners and edges and thickness is spread evenly, using your fingers to feel the doughs thickness on top of the paper
Keep the bottom parchment paper under pie crust while baking
Make fork holes all over the dough to ensure it cooks evenly.
Bake at 425F for exactly 12 minutes or until golden
Remove from oven and allow to cool
Spread Pesto Sauce all over pie crust
Slice tomatoes and place all around in whichever way you choose
Sprinkle salt & pepper over the tomatoes and bake in oven between 5-10 minutes, depending how well done you like the tomatoes
Please watch carefully as every oven varies in temperature
Slice into small squares