Appetizers
Mains
Harlan Kilstein's Completely Keto Tilapia with Onion Butter Sauce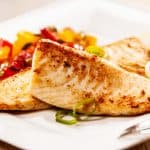 Harlan Kilstein's Completely Keto Tilapia with Onion Butter Sauce
Print
Instructions
Wash the tilapia and dry it off, then preheat the oven to 375 degrees.

Smooth some olive oil over the tilapia and sprinkle the black pepper and salt on top. Bake for 20 minutes.

Melt butter with the onion powder in a small saucepan over medium heat and mix well.

Take the butter sauce off the fire and pour over the tilapia.

Sprinkle some paprika on top for presentation.