Harlan Kilstein's Completely Keto Teriyaki Salmon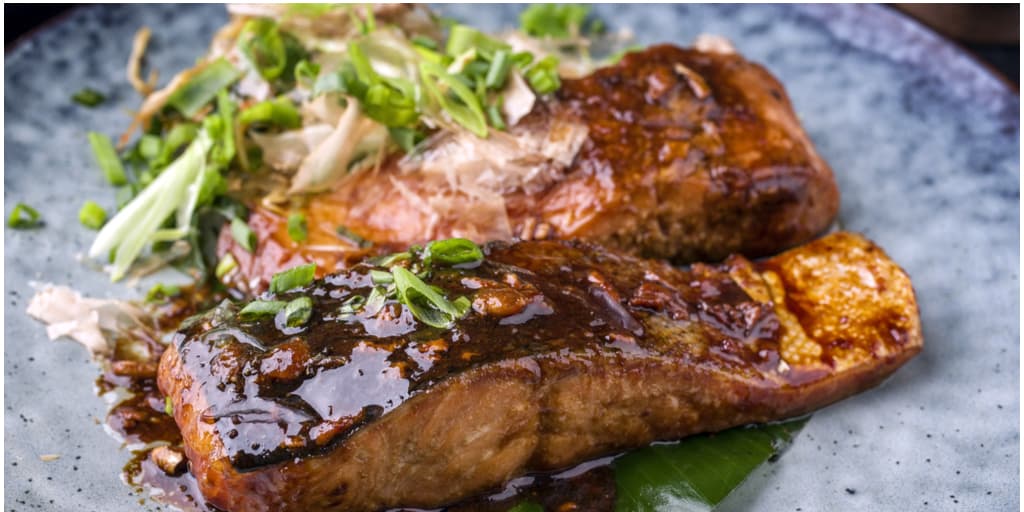 Harlan Kilstein's Completely Keto Teriyaki Salmon
Ingredients:
Serves 4 main course servings
1 1/2 Pounds of salmon fillet cut into 4 slices, each main course serving size is 6 oz
Teriyaki marinade:
2 1/2 Tbs olive oil
1 1/2 Tbs minced fresh ginger
3 Tbs fresh lemon or lime juice
3 Tbs Wheat Free Tamari sauce
3/4 Tsp coarsely ground black pepper
1/4 Tsp cayenne pepper
4 Whole garlic cloves, minced
2 Tbs Lakanto Syrup
4 Scallions, thinly sliced
This Teriyaki marinade sauce can be kept in the fridge for up to 2 weeks and used on chicken and beef as well as fish.
This recipe makes extra and should not need to use all of it.
In a bowl stir together all of the Teriyaki sauce ingredients.
In a container that can hold 4 slices of salmon pour half the sauce over the fish.
Put the other half of the sauce in a small container to use for yourself at another time in the refrigerator.
Place the fish container in the refrigerator for 1-2 hours.
Preheat indoor grill or broiler
Remove fish from sauce & set aside
Grill or broil fish for about 3-4 minutes on each side, no longer or it will dry up
Transfer the reserved marinade to a small pan
Bring to a boil
Cook the sauce on medium -low  until it is thickened and reduced about 10 minutes
Pour the sauce over the fish
Enjoy at room temperature or hot