Mains
Harlan Kilstein's Completely Keto Speed Keto Pizza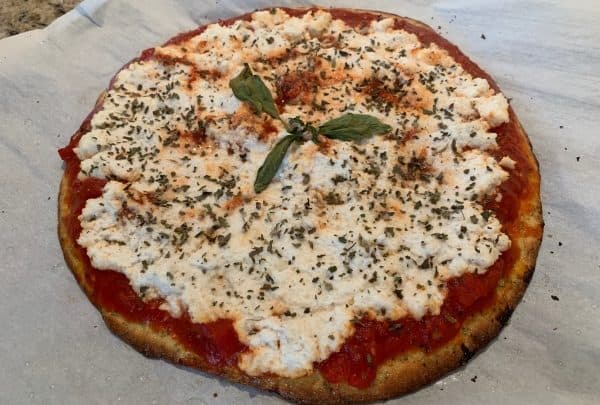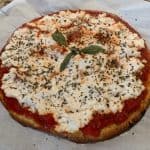 Speed Keto Pizza
This special non-dairy pizza recipe fits the Speed Keto diet.
Print
Ingredients
2

cups

raw macadamia nuts

You must soak them for 12 hours to remove the inflammatory elements

3-4

tbsp

lemon juice

2

tsp

Pink Himalayan Salt

1

tsp

white pepper

1

tsp

garlic powder

3

eggs

1

tsp

oregano

1

tbsp

fresh basil

3/4

cup

tomato sauce (no sugar added)
Instructions
Preparing the Macadamia nuts. Soak the nuts in water at least 12 hours or overnight. This removes the inflammatory elements. Rinse the nuts off well and drain. Place in VitaMix or similar high power blender.
Add 3 or 4 tablespoons of lemon juice. Add 1 tsp Himalayan salt, a pinch of garlic powder, and a pinch of white pepper.
Add 1/4 cup of water and slowly mix on slow speed. You may need to add more water 1/4 cup at a time until it blends and turns into macadamia cheese. Blend to make sure it is well blended and there are no chunks. The cheese may be moist. As long as it is smooth.
Take this mixture and split it in half. One half is for the dough. The other half is the topping.
Mix half the cheese mixture with 3 eggs and mix well. Add 1 tsp Himalayan salt, oregano, and a pinch of garlic powder. Mix again. Prepare a round pizza tray with parchment paper with a light covering of olive oil. Spread out the dough on top of the oiled parchment paper. The crust may be liquid - not to worry. It will come out fine.
Bake in over 15-20 minutes until brown. Check after 10 minutes.
Remove crust from oven. Top with tomato sauce. Spread well. Take rest of macadamia cheese and spread it out on top. Top with fresh basil.
Alternatively you can add sliced tomatoes, mushrooms, etc. to the topping.
RaIse oven temperature to 400 and bake 5-10 minutes.
After your first 30 days this can substitute a slice for any meal. It's quite filling. You may think it won't be enough to fill you but it will.