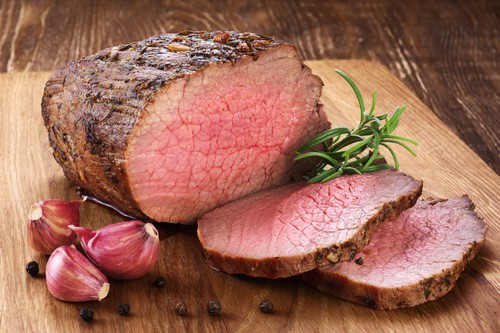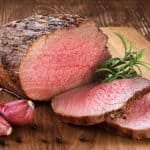 Harlan Kilstein's Completely Keto Silvertip Roast
Print
Ingredients
1

Large onion

sliced

5

lbs

silvertip Roast beef

5

cloves

garlic

crushed

1

Tsp

Pink Himalayan salt

1/2

Tsp

Black Pepper

1

Tsp

Sweet Paprika

3

Tbs

olive oil

or coconut oil

1

Tsp

cumin

1/2

cup

Pinot Noir

1/2

water

or 1 cup if you don't use the wine above.
Instructions
Place onion on the bottom of a roasting pan.

Top with meat (rinse off with water first)

Preheat the oven to 375

Combine garlic, oil, and all spices in a bowl and cover the meat.

Let it sit for an hour or two to absorb the flavors.

Combine the wine, water, and ketchup and pour over the meat.

Insert an oven thermometer into the thickest part of the meat.

Place in the oven uncovered for 45 minutes

Cover the meat and let it cook until the thermometer shows 135 degrees.

The meat will be rare at that time BUT… the meat continues to cook after you take it out of the oven.

Let me meat cool for 30-45 before slicing thin.

Cover with juices and warm it up in the oven if you like well done.