Harlan Kilstein's Completely Keto Shepherd's Pie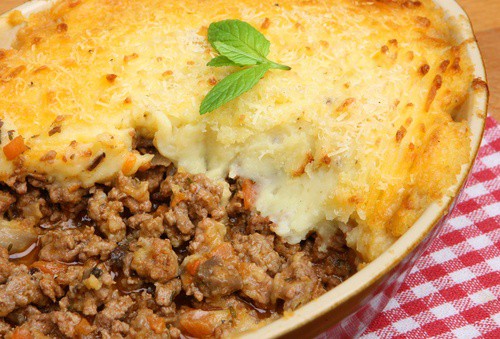 Harlan Kilstein's Completely Keto Shepherd's Pie
Ingredients:
2 Large onions
2 lbs ground fatty chopped meat
6 eggs
3 Packages Riced Cauliflower
1 1/2 Tsp Pink Himalayan salt
1/2 Tsp Pepper
1 finally diced red pepper
2 Tbs olive or coconut oil
t Tbs coconut oil
Sprig of parsley to garnish
Using a large stove top pan heat up oil on medium heat
Chop one onion in small pieces and toss in pan to sizzle and brown
When onions are browning add diced red pepper.
Add ground beef and stir until done. Stir often because the meat cooks quickly.
Use coconut oil to grease lasagna pan.
pour meat in the the bottom of the pan and let cool.
Add riced cauliflower and remaining onion and eggs to food processor.
Add salt and pepper
Process until creamy texture.
Pour over browned meat in lasagna pan.
Bake in oven at 350 for 30 minutes.
Take out of oven briefly and put some coconut oil on the top to help brown the mixture.
Put back in oven for another 30 minutes.
Garnish with parsley
Serves 6-8