Mains
Harlan Kilstein's Completely Keto Pepper Crusted Steak (SK)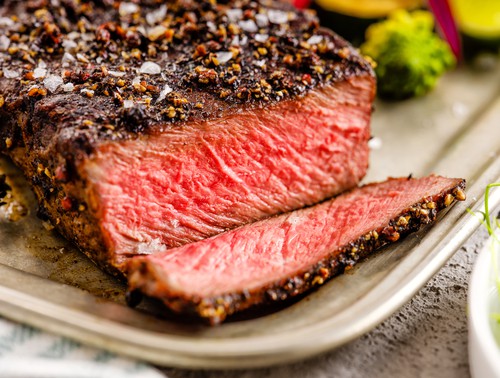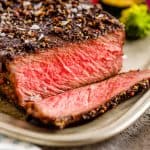 Harlan Kilstein's Completely Keto Pepper Crusted Steak (SK)
Print
Ingredients
1 1/2

lb

any types of steak (pepper, rib eye, strip etc)

4

oz

italian dressing

2

tsp

garlic powder

1

tsp

onion powder

6

Tbsp

coarse black pepper

2

tsp

Pink Himalayan Salt
Instructions
Slice a few holes into the steak to allow the marinade to penetrate. Marinate the stake in the dressing in a container or bag overnight in the fridge.

Take meat out of fridge and wait until it becomes room temperarature which should take at least an hour.

Set grill to about 450 degrees.

Mix all the spices other than the dressing in a big plate.

Coat all the sides of the steak in the pepper mix.

Grill for as long as you prerfer for rareness level and depending on size of steak.

Put all finished grilled meat in a covered pan to allow it to become juicy.