Desserts
Harlan Kilstein's Completely Keto Peanut Butter Popsicles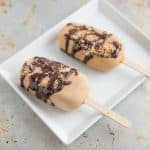 Harlan Kilstein's Completely Keto Peanut Butter Popsicles
Print
Instructions
Blend the greek yogurt, peanut butter, maple syrup alternative and vanilla until smooth and fully mixed.

Pour this batter into the popsicle molds.

Put in the freezer for 4 hours.

While the bars are freezing, line a baking sheet with parchment paper.

Melt the chocolate in the microwave for 15-20 seconds at a time until fully melted.

Take the frozen popsicles out of the freezer and drizzle the melted chocolate over them and immediately return to freezer for another 30 minutes.