Desserts
Harlan Kilstein's Completely Keto Peanut Butter Fudge Brownies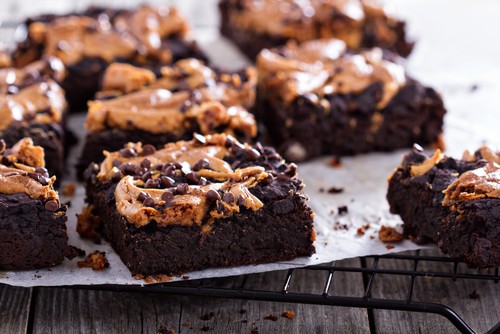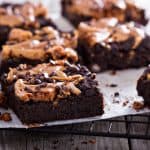 Harlan Kilstein's Completely Keto Peanut Butter Fudge Brownies
Print
Instructions
Brownie layer
Preheat oven to 350 degrees.

Put the butter in a big baking pan and let melt in the oven fully.

Put the lilys semi sweet chocolate in a pot on low heat to melt. Add swerve when it looks like it's basically melted then mix the swerve in well until fully melts. Take off the fire.

Add in all the rest of the brownie ingredients and mix well. Once the butter has fully melted, spread the butter over the baking pan evenly and pour the chocolate mix over evenly.

Bake for about 35-40 minutes. Take out and let cool fully before applying peanut butter layer.
Peanut butter layer
In a saucepan on a medium flame, conjoin the peanut butter and butter by melting. Mix in the salt and vanilla. Pour in the swerve a bit at a time until the mixture thickens. Spread a nice fudgy layer over the cooled brownies and garnish by sprinkling some more of lily's semi sweet chocolate chips.