Soups
Harlan Kilstein's Completely Keto Mushroom Soup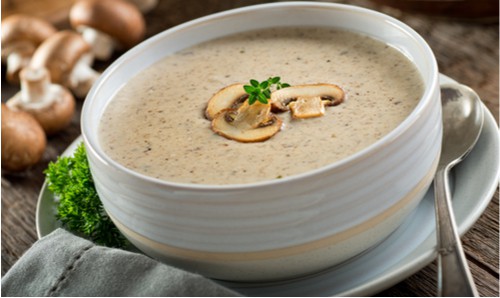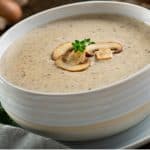 Harlan Kilstein's Completely Keto Mushroom Soup
Print
Ingredients
Soup
2

containers

baby mushrooms

sliced

black pepper

to taste

3

Tbsp

butter

Pink Himalayan Salt

to taste

2

Tbsp

basil leaves

1/2

cup

heavy cream

1

tsp

nutmeg
Homemade Stock
6

celery stalks

1

garlic head

halved widthwise

3

onions

chopped

stems of the mushrooms used in the soup

3

bay leaves
Instructions
Homemade Stock
Fill a pot that can hold 4 quarts a little more than halfway with water.

Add the onions in the pot. Roll a rolling pin over celery well to crush and juice then put into the pot. Add in half of the garlic.

Crush the stems of mushrooms and put into pot as well. Add in the rest of ingredients.

Cover pot then raise to boil and allow to simmer for 1 hour. Stir sparingly.

Let cool for a bit then strain. Pour the stock back into the pot.
Soup
Melt butter in a pan. Crush the other half of garlic and add to the pan. Sauté for 2 minutes. Add in the spices, mushrooms and nutmeg.

Cook for 4 minutes and add in basil. Then cook for another 4 minutes.

Add this to the stock and add in the heavy cream, then cook for 5 minutes.

Take off the heat and blend. Add any spice needed after tasting.