Mains
Harlan Kilstein's Completely Keto Kale, Mozzarella and Pesto Pizza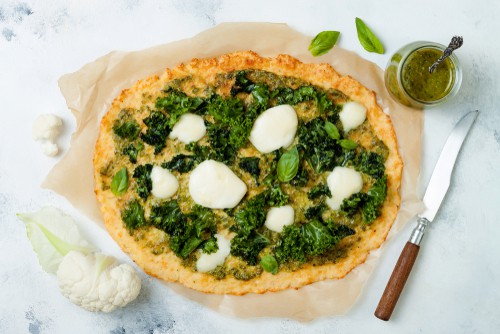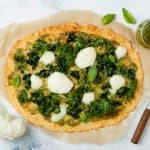 Harlan Kilstein's Completely Keto Kale, Mozzarella and Pesto Pizza
Print
Ingredients
Crust
1/2

tsp

dried basil

1/2

tsp

garlic powder

1/4

cup

mozzarella cheese

2

eggs

1/4

cup

parmesan cheese

3

cup

fresh cauliflower

1/4

tsp

Pink Himalayan Salt

1/8

tsp

black pepper
Instructions
Crust
Preheat oven to 425 degrees and prepare a baking sheet lined with parchment paper.

Grate the cauliflower with a food processor. Microwave for 4 minutes then strain and cool through a towel.

Mix all the ingredients in a big bowl well with the cauliflower to form your batter. Then form the pizzas crust by taking 1/4 cup measure of batter and spreading out in a circle on the baking sheet. Repeat this until all the batter is made into mini pizzas on the baking sheet.

Bake for 15 minutes on 425.
Toppings
Spread each cauliflower crust with walnut pesto, then top with the kale and some fresh mozzarella slices. Bake on 425 for about 7-8 minutes.