Harlan Kilstein's Completely Keto Holiday Roast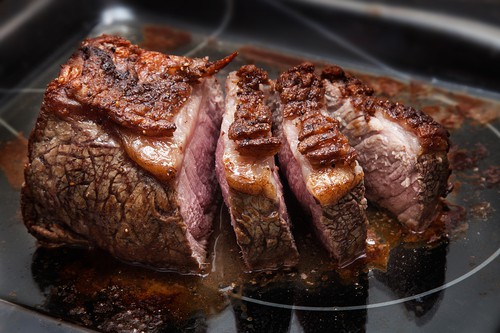 Harlan Kilstein's Completely Keto Holiday Roast
Serves 12
Ingredients:
For the sauce-
1 Onion cut in 4
One 3 inch piece of fresh ginger, peeled
10 Garlic cloves
1/4 Cup Nathan's Mustard
1/2 Cup Pinot Noir
1/2 Cup Zevia Cola or Ginger Ale
1 Cup Walden Farms Ketchup
1/4 Cup apple cider vinegar
1/4 Cup Wheat Free Tamari sauce
1/2 Cup olive oil
1/2 Tsp ground cloves
1 Tbs Coarsely ground black pepper
USE 1 first-cut brisket, 6-7 pounds, rinsed and patted dry
Preheat the oven to 350 degrees
Sauce:
Combine all ingredients for the sauce in a food processor until smooth
Roast:
Place the brisket in a pan that just fits the meat so that the meat is sitting in the sauce
Pour the sauce over the meat
Cover tightly with two layers of aluminum foil
Bake for two hours or less depending on how you like your meat, use the thermometer to check after one hour of baking
Take cover off and turn meat over and bake uncovered for 1 hour or check with a thermometer inserted in its center to cook according to how you, your family and your guests prefer. For more medium cooked roasts check with a thermometer after 1 hour of baking and after two hours and so on.
Transfer meat to a cutting board and allow to cool for 10 minutes. If you cut the meat too quickly, it tends to shred.
Pour sauce from the pan into a stovetop saucepan and cook on medium-high heat until it is reduced to under 3 cups
Slice meat against the grain
Pour the sauce on top and serve hot