Dinner
Harlan Kilstein's Completely Keto Hamburger and Fries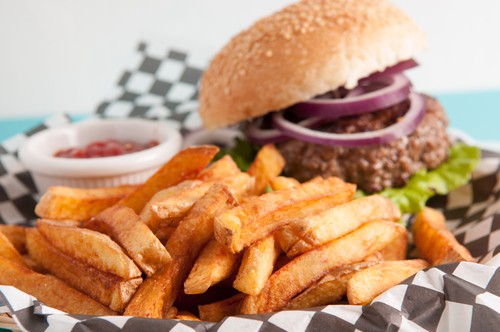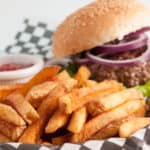 Harlan Kilstein's Completely Keto Hamburger And Fries
Print
Ingredients
Ingredients:
Jicama sliced into sticks

Garlic powder

Paprika
Instructions
Rub all ingredients onto each of the sticks

Place in Air fryer for 20 minutes

Serve with Walden Farms sugar free ketchup
Recipe Notes
Hamburger meat should be a regular ground beef. Do not use lean beef. It will be dry. Using an indoor counter top grill or outdoor grill Variations for what you put in your burger can be made in advance including browning some onions in a skillet with some Himalayan Salt and pepper beforehand and leaving them on the side for when you are ready to plate your hamburger and fries I use Hamburger buns from Foxhill Kitchens which are Keto approved and will be delivered to your door . I use Ketchup from Walden Farms and Mayo is from Primal Avocado Mayo. Jicama fries in video being cooked in air fryer that I use daily for my meals.