Mains
Harlan Kilstein's Completely Keto Green Bean Casserole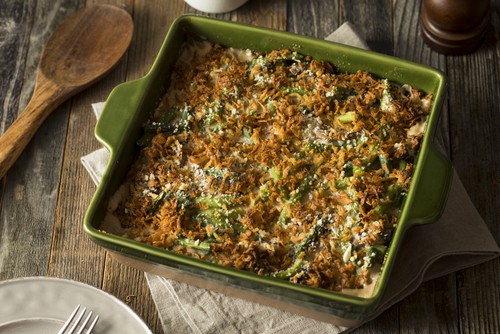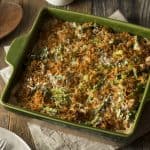 Harlan Kilstein's Completely Keto Green Bean Casserole
Print
Ingredients
2

Tbsp

olive oil

1

cup

crispy fried onions

1 1/2

cup

green bean

1

cup

white mushrooms

sliced

1

Tbsp

xanthan gum

1 1/2

cup

half n' half

1

tsp

garlic powder

2

tsp

Pink Himalayan Salt

1

tsp

black pepper

parmesan cheese

sprinkled on top
Instructions
Heat up the oil in a big pan on medium-high flame.

Cook the mushrooms until they become brown which should be about 6-7 minutes. Keep the juice in the pan.

Mix the garlic powder, salt, pepper, xanthan gum and half n' half in a bowl.

Keep the flame still going on the mushrooms and pour the mix in from the bowl. Keep mixing it in until the mixture thickens which should be about 2-3 minutes.

Grease a casserole dish with oil and add in the green beans. Layer the sauce from the pan over them. Mix the green beans around to coat each green bean.

Once well mixed, try to make a flat surface with the green beans and pour the fried onions over.

Bake on 350 for about 50 minutes. Best served hot but can be refridgerated and served as well.