Desserts
Harlan Kilstein's Completely Keto Grandma Harriet's Keto Carrot Cake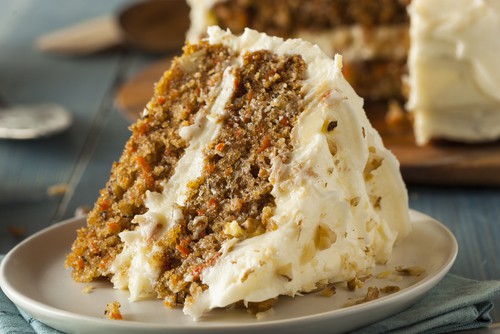 Harlan Kilstein's Completely Keto Grandma Harriet's Keto Carrot Cake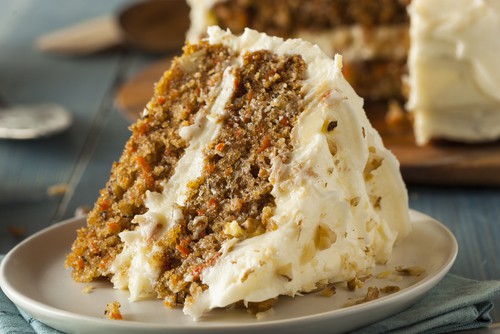 Since my mother passed away, people have requested copies of some of her recipes. One of her favorites was carrot cake. Since carrots are so high in sugar and carbs, we leave them out of recipes. This is my Keto-fied version of her carrot cake. Enjoy.
By the way, Grandma Harriet made this in an aluminum pan not an angel food pan.
Carrot Cake
1 1/4 cups coconut oil
2 cups Swerve
3/4 cup coconut flour
3/4 cup almond flour
2 tsp cinnamon
2 tsp baking powder
1 tsp baking soda
1 tsp salt
4 whole eggs
4 cups grated zucchini – Take the grated zucchini and squeeze out all liquid.
1 cup chopped pecans
2 tsp [easyazon_link identifier="B00EVCCM3G" locale="US" tag="beachmillions-20″]carrot flavor[/easyazon_link]
Pecan Cream Filling
1 1/2 cups Swerve
1/4 cup almond flour
3/4 tsp Himalayan salt
1 1/2 cups heavy cream
6oz unsalted butter
1 1/4 cups chopped pecans
2 tsp vanilla extract
Cream Cheese Frosting
8 oz unsalted butter
8 oz soft cream cheese
12 oz package [easyazon_link identifier="B06XJ6Q131″ locale="US" tag="beachmillions-20″]Confectioner's Swerve[/easyazon_link] (adjust for thickness – you may require less)
1 tsp vanilla extract
Assembly
1 1/2 cups shredded, unsweetened coconut
Instructions
Keto "Carrot" Cake
Preheat Oven to 350 F. Prepare a greased 10″ angel food cake pan. In a large bowl, Mix the coconut oil and Swerve. Whisk together the coconut flour and almond flour, cinnamon, baking powder, baking soda and salt. Sift half the dry ingredients into the Swerve / oil mixture and blend. Alternately, add in the rest of the dry ingredients while adding the eggs one by one. The batter should be thick. Stir in the carrot flavoring. If it's too thin, add almond flour 1 tablespoon at a time until it thickens. Combine well.
Add the zucchini and pecans. Pour into prepared angel food pan and bake 70 minutes. Cool upright in the pan on a cooling rack. Remove from pan and cool.
Pecan Cream Filling
In a heavy saucepan, blend Swerve, almond flour and salt well. Gradually stir in the cream. Add the butter. Cook and stir over low heat until butter has melted, then simmer 20-30 minutes until golden brown in color, stirring occasionally. Cool to lukewarm. Stir in the nuts and vanilla. Let cool completely and then refrigerate, preferably overnight. If too thick to spread, bring to room temperature before using.
Cream Cheese Frosting
Cream the butter well. Add the cream cheese and beat until blended. Sift in the confectioner's Swerve and add vanilla. If too soft to spread chill a bit. Refrigerate if not using immediately, but bring to a spreadable temperature before using.
Preheat oven to 300F. Spread the coconut on a baking sheet and bake for 10-15 minutes, until colors lightly. Toss the coconut occasionally while it is baking so that it browns evenly. Cool completely. Have the filling and frosting at a spreadable consistency.
Assemble
Loosen the Cake in its pan and invert onto a serving plate. With a long serrated knife, carefully split the cake into three horizontal layers. Spread the filling between the layers. Spread the frosting over the top and sides. Pat the toasted coconut onto the sides of the cake.
Serves 20 portions