Desserts
Basya Wuensch's Completely Keto Donut Trifecta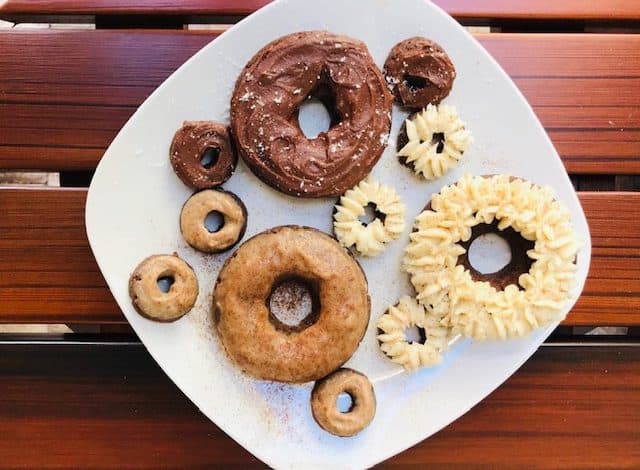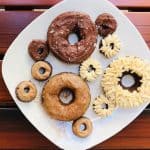 Basya Wuensch's Completely Keto Donut Trifecta
Print
Ingredients
Cinnamon flavor add
2

Tbsp

cinnamon

1

tsp

ginger

1/4

cup

stevia
Maple flavor add
1/8

cup

stevia

1/8

cup

Nunaturals Nustevia
Maple Syrup
2

Tbsp

cinnamon

pinch of salt
Cream cheese frosting
4

oz

unsalted batter

4

oz

soften cream cheese

3

oz

granulated stevia

1/2

tsp

vanilla

top with light sprinkle of cinnamon
Maple glaze
3/4

cup

pecans or walnuts or cashews chopped

1/4

cup

sugar free maple syrup

2

Tbsp

coconut oil
Chocolate frosting
1/4

cup

heavy cream

1/4

cup

instant coffee

top with light sprinkle of cocoa powder
Instructions
Basic donut
Using a hand mixer, mix all ingredients together starting with the egg until whisked well, then adding the other ingredients until smooth and well combined.

Add other ingredients if choosing to make cinnamon, maple, or chocolate flavored donuts.

At this point you can choose to have 3 or 4 seperate bowls to whisk all ingredients for different flavored donuts, simply start each bowl with the basic donut recipe, and add in ingredients to create multiple flavors.

Pour each donut batter into silicon donut molds one by one, using up all of the batter.

Bake between 15-35 minutes depending on the oven.

To check donuts, insert a toothpick into a donut to see if it comes out clean.

Remove from oven and allow to cool for an hour.

After donuts have cooled, use a hand mixer to beat together each frosting flavor in seperate bowls.

Use a frosting tip and bag to design each donut. Store in an airtight container until ready to serve. Allow to sit out at room temperature for an hour or two before serving. Can be made up to a week in advance.