Mains
Harlan Kilstein's Completely Keto Bourbon and Lakanto Roast Turkey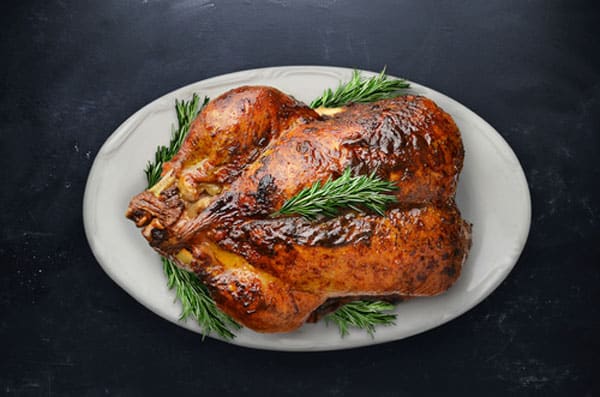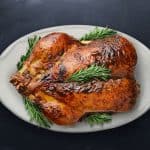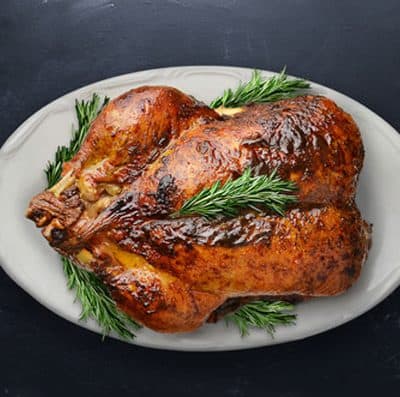 Harlan Kilstein's Completely Keto Bourbon And Lakanto Roast Turkey
Print
Ingredients
One 16-20 pound Turkey

4

Sprigs of Rosemary to garnish

4

Ounces

Butter or Coconut oil at room temperature

Ground Black Pepper

1

Tbs

freshly chopped thyme

1/2

cup

Lakanto Sweetener

1 1/2

Cups

Bourbon of your choice
Instructions
In a large Poultry baking bag, place the Orange extract and water, Bourbon, Lakanto, thyme, 1 1/2 tsps salt and 1 1/2 tsps black pepper and mix well.

Add the turkey to the bag and shake around the juices so that the turkey will be well marinated.

Place in refrigerator overnight

Preheat oven to 325

Place Turkey in a large roasting pan and pour the juices into a bowl and set aside

Using 8 tbs of the butter or oil give a good rub to the entire turkey

Tie the legs together with string

Pour 1/2 cup of the set aside marinade into the roasting pan

Bake for 30 minutes

Baste the Turkey with the pan juices and add to the pan 1 cup of water

Bake the Turkey for 1 more hour basting every 30 minutes

Add the remaining marinade to the pan

Cover the Turkey all around loosely and cook for around two hours Or using a poultry thermometer inserted in the thigh shows 165.

When Turkey is golden and has reached desired temperature remove from oven and place on a platter and garnish with Rosemary sprigs.

Pour the gravy into a large gravy boat and serve hot alongside your Turkey platter.