Mains
Harlan Kilstein's Completely Keto Basic But Fantastic Prime Rib Roast (SK)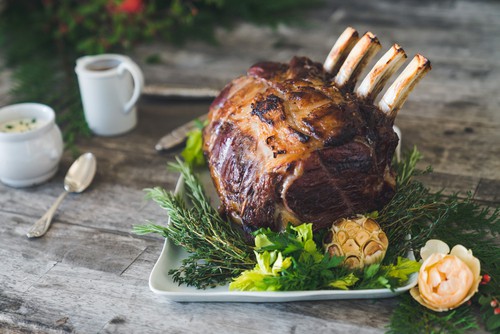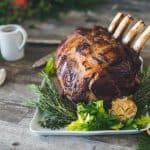 Harlan Kilstein's Completely Keto Basic But Fantastic Prime Rib Roast (SK)
Print
Ingredients
8-10

lb

prime rib

1/3

cup

Extra virgin olive oil

1

Tbsp

Pink Himalayan Salt

1 1/2

Tbsp

black pepper

20

garlic cloves

1 1/2

cups

fresh parsley

1 1/2

cups

fresh dill
Instructions
Put all the dill, parsley, salt, pepper and EVOO in a food processor or blender. Blend until it is a chunky mix. Rub this mixture around the ribs fully. Let meat sit in this rub for minimum 8 hours.

Set oven to 475 degrees. Once fully heated put the rib in the oven on a roasting rack for 20 minutes.

Lower to 350 degrees. Let it keep roasting at this temperature until it reaches 120 degrees on the inside, measure using a cooking thermometer. This should take around 2 hours.

Remove from oven and let it sit which will raise the internal temp to 130 degrees. Then let it sit for half an hour. Serve like that or warm it up a bit first.