Harlan Kilstein's Completely Keto Instant Barbecue Chicken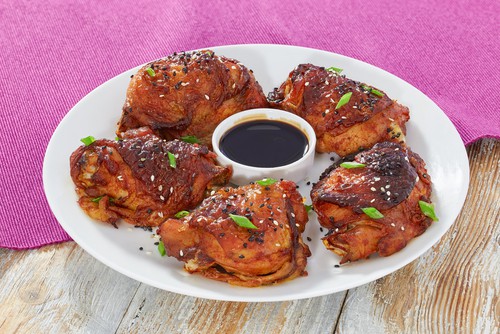 Harlan Kilstein's Completely Keto Instant Barbecue Chicken
Assembling the BBQ Sauce
(Harlan's Secret Memphis BBQ Sauce)
2 cups Sugar Free Tomato sauce (I use Roselli's Marinara)
2 DROPS Sugar Free Liquid Smoke ( I use Lazy Kettle)
2/3 cup Apple cider vinegar
1 tblsp Bourbon
2/3 cup Lakanto, Xylitol, or Swerve
2 tblsp coconut oil
1 tblsp prepared yellow mustard (Prefer Nathan's Famous Deli Mustard)
1 Onion, medium, finely chopped
2 Garlic cloves, minced
2 tblsp Chili powder
1/2 tsp ground Black pepper
1/2 tsp cumin
1/2 tsp fresh oregano
1 leaf fresh basil minced
1 tsp sugar free hot sauce
2 1/2 pounds skinless and boneless chicken thighs
Turn your Instant Pot on Saute
All ingredients except for the chicken
Simmer the ingredients for 5 minutes then turn off.
Place the chicken on top of the sauce
Spoon the sauce on top of the chicken.
Using your Instant pot on MANUAL, close the pot and seal it.
Cook on low pressure for 15 minutes.
Let the pressure release.
Using a wooden slotted spoon take the chicken out and place it on a platter.
Turn the Instant Pot Back to Simmer and let it simmer for 5 more minutes.
Sprinkle with white sesame seeds
Serve with sauce for dipping.
(Save extra sauce)