Harlan Kilstein's I Want More Meatloaf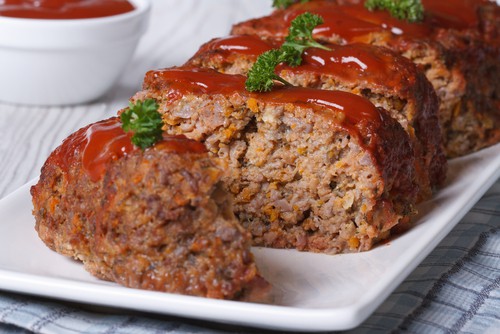 Harlan's Meatloaf
Make sure to choose a meat with a good fat content. If you use a lean ground beef, it will come out dry.
Step One: Topping
1/2 cup sugar free ketchup or my barbecue sauce
2 tbs lakanto sweetener
2 tbs apple cider vinegar
Mix together ingredients and set aside.
Step The Meat: Topping
2 tbs of coconut oil or extra virgin olive oil
1 small onion finely chopped
2 cups of extra fine almond flour 
1/4 cup unsweetened almond milk
2 pounds of ground beef
2 eggs
2 tbs of  ground white horseradish (no sugar  no soy)
2 tbs kosher salt
1/4 tspn of freshly ground black pepper
1 tspn of dry mustard
1/4 cup sugar free ketchup or my barbecue sauce
Preheat oven to 350
Melt coconut oil or olive oil in skillet or pan. Saute onion.
Soak almond flour in almond milk.
Combine all ingredients and mix well.
Pour into 10x5 loaf pan.
Spread topping on top of loaf.
Bake from 45 minutes – one hour