Harlan Kilstein's Keto Moroccan  Salmon
Selecting Salmon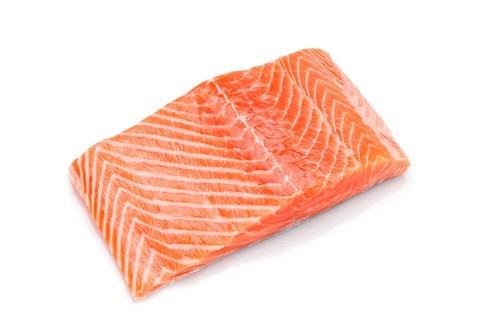 When selecting salmon, the first thing you look for is the lines of fat in the salmon. The more lines of fat the better the salmon will taste. I've never been wrong using this guideline.
Most salmon we see in our supermarkets is farm-raised. The fisheries have to add food color to make it look red to our eyes.
Wild salmon has a different taste but it's much better for you. It is higher in natural omegas.
I try to get my salmon at Whole Foods.
Most salmon we buy is chinook or king salmon. Coho or silver salmon is also a good choice.
Once a year in June, Copper River Salmon may be available. Your eyes will pop out at the price but it's not to be missed.
Simply the best salmon in the world.
Harlan's Kilstein's Keto Moroccan Salmon
1 Cup water
1 Big red pepper
4 Garlic cloves peeled
1 Carrot
3 Green jalapeño peppers
1 Small lemon
2 Cups fresh chopped cilantro
1 Big tomato
4 Entree portion sized Salmon fillets (typically 4 oz)
Seasonings:
3/4 cup olive oil
2 Flat tablespoons paprika
Sprinkle of black pepper
Pink Himalayan salt to taste
Serves 4-6
Use pot a minimum 4-6 inches in depth and 12 inches wide to allow juices to flow freely
Cut red pepper in long strips
Carrot peeled and cut in thin strips finger size
Toss both in pan and sauté with a little olive oil and pink Himalayan salt
Add garlic cloves and jalapeños thinly sliced
Sauté
Add to pan small cubes of tomato
Sauté 5 minutes on medium flame
Add the olive oil, paprika, black pepper , pink Himalayan salt and water
Let boil for 3 minutes
Place lemon slices all around
Add in Salmon making sure the fish is halfway covered in liquid
Add chopped cilantro sprinkled all over evenly on top of Salmon
Cover and let cook 20 minutes on medium heat then lower for 5 minute
Serve with steamed broccoli and watch people smile.